The History Of Lake Maggiore
Lake Maggiore, one of the largest of our peninsula, develops on a surface of 21 square kilometers, (13 square miles) long about 65 kilometers (40 miles) with a width between 1 to 4 kilometers, (.62 to 2,5 miles) located at 194 meters (636 feet) above sea level, with a maximum depth of 372 meters (1220 feet) (Ghiffa).
Its shores cover a total lenght of 150 kilometers (93 miles) from Canton Ticino in Switzerland to Sesto Calende (Va), reaching with its waters two regions: Piedmont and Lombardy, and three provinces: Novara, Varese, Verbano Cusio Ossola.
Wedged between the pre-alps, Lake Maggiore, of clear glacial origin, is framed in its lower section by the soft hills of the "Novarese" region, and in the upper section, by high mountain peeks, some of which with perennial snow.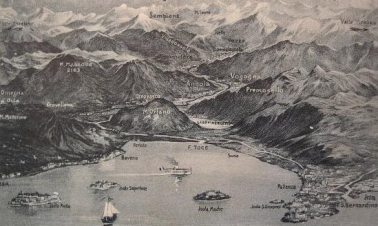 These features make it possible that in the costal areas the climate is temperate, milder in winter than in the inner areas and cooled down in summer by the breezes that blow on the water's surface changing its color. Thanks to its mild climate it was possible for many species of flowers and plants typical to the sub-tropical climate to adaptin the costal areas.
The populations that inhabited Lake Maggiore were in the course of the centuries quite varied, from the Celts followed the Gaelic invasors, then barbarians and subsequently the Romans and finally governed by the lordships of the Visconti, Sforza and Borromeo.
Commerce was the main activity, initially only by the lake, later by land due to the construction of the first section of the public road of the Sempione at the beginning of the XIX century. By the beginning of the 1900 with the launch of the Sempione railway commerce flourished along with tourism and hotels, these activities have protracted up to date.
" quand, par hasard, on a un coeur et une chemise, il faut vendre sa chemise pour voir les environs du Lac Majeur…..» Stendhal( lettera a Pauline.1811).