Lake Maggiore Mountain "Mottarone"
( Route Mottarone di Stresa)
The mountain of the Mottarone (1481 m) can be reached from Stresa through the panoramic road Borromeo that climbs the hills around the lake offering great views of the Gulf of Borromeo and the outlying islands. When you reach the top a breathtaking 360 degrees view will enable the visitor to glance at the whole lake district comprising apart from Lake Maggiore also Lake Orta,and a few minor lakes all framed by the towering Alps that separate Italy from Switzerland.
All around a sequence of soft hills, covered by forests of pine trees, wallnuts, chestnuts, beech and wild cherries and a plentyful variety of flowers.
The Mottarone can also be reached with the cablecar that departs from the Lido of Stresa. Its the ideal place for painters, hickers and trekking lovers, mountain biking and during the winter season the ideal location for snow skiing.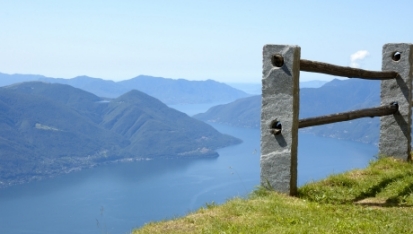 For holiday, tourism, travel or visit the Lake Maggiore take the routes

Itinerary 01 - Big statue of San Carlo Borromeo

Itinerary 02 - Botanic and Zoological Park

Itinerary 03 - Natural Park Lagoni Mercurago

Itinerary 04 - Hills of Lake Maggiore

Itinerary 05 - Stresa The Beautiful Island

Itinerary 06 - Stresa The Mother Island

Itinerary 07 - Stresa The Fishermen Island

Itinerary 08- Fortress Lake Maggiore

Itinerary 09 - Mountains Lake Maggiore

Itinerary 10 - Botanic Garden Lake Maggiore

Itinerary 11 - Torrent Cannobino

Itinerary 12 - Castles of Cannero

Itinerary 13 - Church Santa Caterina del Sasso

Itinerary 14 - Fortress of Angera Castle

Itinerary 15 - Trip on Lake Maggiore
Booking hotel Lake Maggiore (Booking Hotel in Real-Time)