The Fortress Borromea di Arona
(Rocca di Arona Lake Maggiore)
The Italian Fortress of Lake Maggiore called Fortress of Arona was once theatre of many battles, especially during the Napoleonic Wars. It dominates the lake from the cliffs above the town of Arona offering to the visitor an ancient feeling.
The remainings of the fortress testifies its strategic position and importance of its location and of the many battles that took place to take control of it. It was destroyed by medieval battles with the rival Fortress of Angera located across the lake wich can still be viewed in all its spendour from the site. The final stroke was given by the Napoleonic ordes in the XIX century.
It has now become a public park, ideal for children, nicely cured, with some small animal like ducks and gooses, peacock. From its top is possible to have a nice view of the city of Arona and its surroundings, and the opposite coast of Lombardia where its possible to admire the sheer cliffs of the Fortress of Angera.
How to get there
Highway A8Milan - Lakes
Continue on A26 direction Gravellona Toce.
Exit Arona Town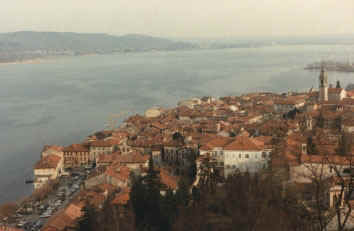 The view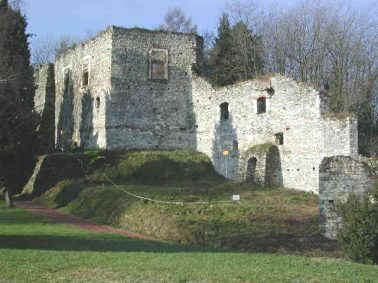 The Fortress
For holiday, tourism, travel or visit the Lake Maggiore take the routes

Itinerary 01 - Big statue of San Carlo Borromeo

Itinerary 02 - Botanic and Zoological Park

Itinerary 03 - Natural Park Lagoni Mercurago

Itinerary 04 - Hills of Lake Maggiore

Itinerary 05 - Stresa The Beautiful Island

Itinerary 06 - Stresa The Mother Island

Itinerary 07 - Stresa The Fishermen Island

Itinerary 08- Fortress Lake Maggiore

Itinerary 09 - Mountains Lake Maggiore

Itinerary 10 - Botanic Garden Lake Maggiore

Itinerary 11 - Torrent Cannobino

Itinerary 12 - Castles of Cannero

Itinerary 13 - Church Santa Caterina del Sasso

Itinerary 14 - Fortress of Angera Castle

Itinerary 15 - Trip on Lake Maggiore
Booking hotel Lake Maggiore (Booking Hotel in Real-Time)