Mother Island
Route Isola Madre Lake Maggiore
The solitary and luxuriant Mother Island is in the town of Stresa and is covered for the greater part of its surface by a botanical garden of remarkable interest.
The Island is the largest of the Borromeo Gulf, not too far from Stresa and near Isola Bella. It was the summer residence of the noble family of the Borromeo.
Apart from being luxurious and shaded the island is covered by tree-lined avenues along its shores.Inside of the Palace which dates back to the XVI century are collections of antiques books and pottery, and also a rare collection of ancient marionettes.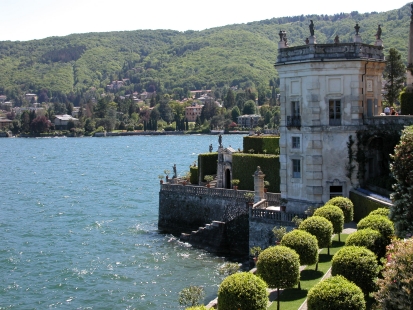 Hour and period opening visits:
Period:from 27 March to 24 October.from March to September 9,00-12,00/13,30-17,30 October:9,00-12,00/13,30-17,00
Office Information:Beautiful Island 0323-30556
Milano Tel.02-86452748
Fax 02-72010038
Island Mother 0323-31261
Routes Lake Maggiore

Itinerary 01 - Big statue of San Carlo Borromeo

Itinerary 02 - Botanic and Zoological Park

Itinerary 03 - Natural Park Lagoni Mercurago

Itinerary 04 - Hills of Lake Maggiore

Itinerary 05 - Stresa The Beautiful Island

Itinerary 06 - Stresa The Mother Island

Itinerary 07 - Stresa The Fishermen Island

Itinerary 08- Fortress Lake Maggiore

Itinerary 09 - Mountains Lake Maggiore

Itinerary 10 - Botanic Garden Lake Maggiore

Itinerary 11 - Torrent Cannobino

Itinerary 12 - Castles of Cannero

Itinerary 13 - Church Santa Caterina del Sasso

Itinerary 14 - Fortress of Angera Castle

Itinerary 15 - Trip on Lake Maggiore
Hotel Lake Maggiore (Booking Hotel in Real-Time)